See on Scoop.it – EconomicFactors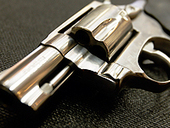 These days, there are few few things to admire about the socialist, bankrupt and culturally degenerating USA, but at least so far, one thing remains: the right to bare arms and use deadly force to defend one's self and possessions…
Bill McKee's insight:
From Russia, with Love. History has a way of shedding light on the nature of man. It exposes for all to see, the constant battle for power, control, and domination by those who lust for such things. The reason the 2nd ammendment was established was to protect citizens from an overeaching and power hungry government. This article explains the matter quite convincingly. George Washington and other founders were keely aware that government put into the wrong hands, with no means of protection retained by the citizens, INVITES abuse and tempts would be tyrants to no end. Keep this in mind as you listen to the "arguments" that politicians use.. as to why the people must be disarmed. Why not disarm the bad guys.. you know, the vermin. That my would be master, would be within the scope or your actual duties?
Massive Government is NOT the friend of liberty or of the average citizen. History proves that.
See on english.pravda.ru