See on Scoop.it – EconomicFactors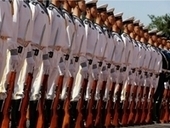 The official Chinese government news agency, Xinhua, has demanded the US immediately adopt stricter gun control measures to reduce the number of firearms the US populace is permitted to possess.
Bill McKee's insight:
As Obama and his minions march closer to the orders of Chinese Communist Party, is it any wonder that the Chinese demand that America be disarmred? Read some history. The Godless, tyrannical force that is Communism is setting it's sights on America.. and America's President and minnions are on board with that.. actively continuing a plan to "fundamentally change" America from the land of the Free, to the land of servitude and corrupt.
See on www.breitbart.com