See on Scoop.it – EconomicFactors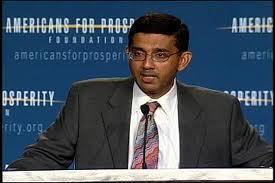 (Enter Stage Right) — In 2012, conservative author Dinesh D'Souza produced an anti-Obama documentary, 2016: Obama's America. The film earned over $33 million at the box office and was the highest-grossing documentary since 1982.
Bill McKee's insight:
This politically inspired abuse of the justice department is exactly what Chicago Politics.. Obama style.. is all about. This is nothing more than an all out effort to silence dissent.. turning the US political class into a mobster government is well underway. Obama/Holder find it quite convenient to usurp the right to dissent from those person most likely to do real harm to their sinister ambitions.
See on www.wnd.com