See on Scoop.it – EconomicFactors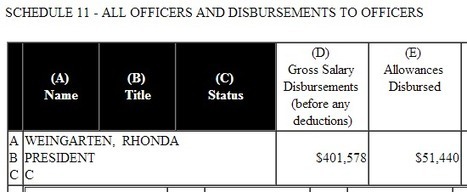 American Federation of Teachers President Randi Weingarten, who was paid $543,150 last year, defended her compensation by claiming her pay is $360,000 and other reported expenses simply prove the union's "transparency."
Bill McKee's insight:
Union Bosses have a great Gig! Hundreds of them are 1%. Once again, the union boss is the true winner in all this. While pretending to "represent" the labor.. the truth is, they are simply creating their own little plantation- and daring any of the "members" to complain. Better yet, they buy off government in order to force their "members" to join and pay up in order to be employed.
The sheeple are so easily controlled, it's astonishing.
See on www.redstate.com