See on Scoop.it – EconomicFactors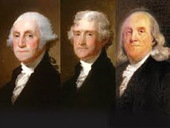 America's Most Aggressive Defender of Firearms Ownership
" I want to provide a context for several of the arguments which are used in the modern lexicon of those who would attempt to separate you from your rights, but first I want to define a term. Many of us who can read the Constitution and understand it's historical context, have known for a long time that the right to keep and bear arms, was not created by the U.S. Constitution. The Second Amendment says Quote: "the right to keep and bear arms shall not be infringed." It does NOT say, "the right to keep and bear arms is hereby created." The right pre-existed the Amendment, plain and simple.
click link for full article…
Bill McKee's insight:
What a clear, well reasoned and compelling article concerning the arguments surrounding a citizens individual right to bear arms. Excellent!
See on jpfo.org